Refuse to Be a Victim (Currently custom scheduling these OR holding in conjunction with "A Girl and A Gun")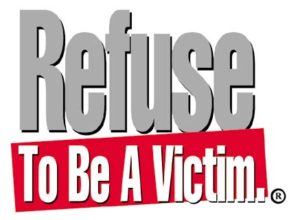 This is an NRA program where you can learn to protect yourself and your family from today's criminal with ways other than firearms. The following topics are presented during this 4-hour lecture seminar (Can be shorter or longer depending on optional topics): The Psychology of the Criminal Mind Home & Phone Security Automobile & Travel Security Personal & Technological Security Self-Defense Tools & Training Options And more! If you've ever wanted to know what your options are and how you can reduce your chances of being selected as the victim of a crime, sign up for a seminar today. We look forward to seeing you soon at one of our RtbaV seminars!
Cost: $50 Per Person
Length: Usually 4 hours, can be longer, can be shorter depending on what is covered. Also can be scheduled in multiple sessions
What you Get: Great information to keep yourself safe and make yourself less of a target to criminals; Class Material; Certificate of Completion from the NRA's Refuse To Be A Victim.
**There are currently no sessions scheduled, but please contact us to let us know you are interested in taking this seminar and we will work with you to schedule one at our location or we can create a custom, group class for your church, office, friends or family!**